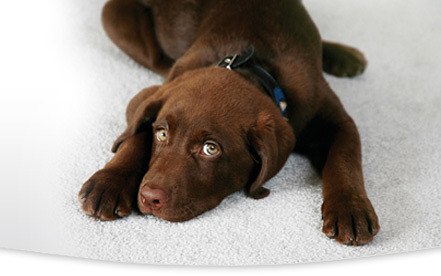 Rug Doctor Pro
Urine Eliminator

With our Pro Urine Eliminator and these simple carpet cleaning tips you can remove urine, faeces and vomit at the source of stains.
STAINS AND ODOURS ARE GONE FOR GOOD

USING RUG DOCTOR PRO
URINE ELIMINATOR

Urine, faeces and vomit leave both a stain and odour problem to eliminate on carpeting or upholstery. It is important to clean the area as soon as possible to prevent it from soaking through and to avoid any permanent bleaching.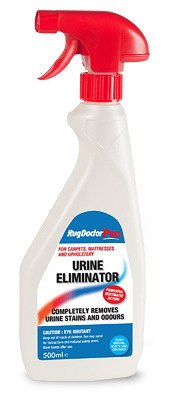 Once you identify the problem area, apply enough Rug Doctor
Pro Urine Eliminator
to penetrate deep into the carpet or upholstery. Its active enzymes seek out the source of the stain and literally eliminates it. These enzymes need moisture to work, so place a damp cloth or towel over the treated area. Make sure it stays damp for up to 24 hours if possible.
The Rug Doctor Pro knows all about urine and its elimination:
Uric acid in all urine contains non-soluble salt crystals, which present the biggest challenge to
removing urine stains and odours from carpets, mattresses and fabrics.
Uric acid crystals are extremely insoluble and remain
tightly bonded to the surface. After initial cleaning and drying with ordinary cleaning products, it may look like the problem has been solved. However, any type of moisture on the affected area will reactivate those remaining crystals and the smell returns, as strong as ever. That's why it's important to use
Rug Doctor
Pro Urine Eliminator

to get the job done right once and for all.
When it comes to removing urine or faeces on carpet, soft furnishings or even a mattress, there are two things to quickly eliminate: the
stain and the odour
.
Rug Doctor Pro Urine Eliminator uses an advanced enzyme action which actually breaks down both the cause of the stain and any remaining particles of solids into a permanently water-soluble consistency which can then be removed.
After removing any excess liquid or solids, we recommend that you generously spray on Rug Doctor Pro Urine Eliminator- thoroughly wetting the area with it - in order to reach right into the backing of the carpet.
Do not blot or wipe the area as the enzymes need both moisture and time to work
their magic.
Place a damp, colour-safe towel over the treated area and allow the affected area to dry naturally. In most cases it is best to allow it to remain moist overnight to allow the enzymatic process to complete its work, although 2 to 4 hours is usually sufficient on fresh stains.
Any remaining slight discolouration can be removed by simply dampening it with water and blotting. The stain and odour will then be gone for good.
Don't forget that Rug Doctor Pro Urine Eliminator can be safely used on a mattress too.
All Rug Doctor Pro cleaning solutions are Pet Safe and Wool Friendly.
When cleaning pet accidents it is important to be thorough because the dissolved crystals may release a strong scent, such as feline pheromones. Look for urine stains on adjacent walls or furniture and be sure to clean these areas as well.
Although accidents are never pleasant, they are a lot more manageable with this simple but effective carpet cleaning solution.
---
Troubleshooting guide
If you are having any problems using your Rug Doctor Pro please refer to our Troubleshooting guide by
clicking here
.
If you are still experiencing problems please call our
Consumer Support Specialists
(Mon-Fri 9.00am - 5.00pm)
01903 235558
.

Click here for more information.