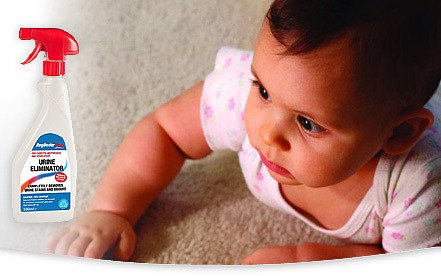 Eliminate potty training
stains and accidents

With this simple and effective cleaning solution you
can completely eliminate both the odour and stain that was left behind!
RUG DOCTOR PRO URINE ELIMINATOR

POTTY TRAINING STAINS AND ACCIDENTS GONE FOR GOOD

Having clean carpet is important to most parents because it helps promote a healthy home and environment for children to live and play in.

It always appears that cleaning stains such as urine, faces and vomit effectively will be a nightmare, however with Rug Doctor Pro Urine Eliminator these stains can easily be removed!
The Rug Doctor Pro knows all about urine and its elimination:
Uric acid in all urine contains non-soluble salt crystals, which present the biggest challenge to
removing urine stains and odours from carpets, mattresses and fabrics.
Uric acid crystals are extremely insoluble and remain
tightly bonded to the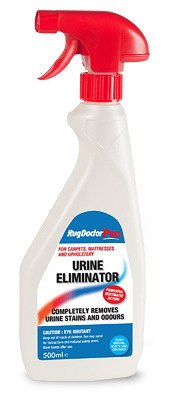 surface. After initial cleaning and drying with ordinary cleaning products, it may look like the problem has been solved. However, any type of moisture on the affected area will reactivate those remaining crystals and the smell returns, as strong as ever. That's why it's important to use
Rug Doctor
Pro Urine Eliminator
to get the job done right once and for all.
When it comes to removing urine or faeces on carpet, soft furnishings or even a mattress, there are two things to quickly eliminate: the
stain and the odour
.
Rug Doctor
Pro Urine Eliminator
is an ideal solution to all potty training stains and odours.
Speed is naturally of the essence with these types of stains, as urine in particular can also have a bleaching effect on carpets and soft furnishings when it dries.
Rug Doctor Pro Urine Eliminator uses an advanced enzyme action which actually breaks down both the cause of the stain and any remaining particles of solids into a permanently water-soluble consistency which can then be removed.
After removing any excess liquid or solids, we recommend that you generously spray on Rug Doctor Pro Urine Eliminator- thoroughly wetting the area with it - in order to reach right into the backing of the carpet.
Do not blot or wipe the area as the enzymes need both moisture and time to work
their magic.
Place a damp, colour-safe towel over the treated area and allow the affected area to dry naturally. In most cases it is best to allow it to remain moist overnight to allow the enzymatic process to complete its work, although 2 to 4 hours is usually sufficient on fresh stains.
Any remaining slight discolouration can be removed by simply dampening it with water and blotting. The stain and odour will then be gone for good.
Don't forget that Rug Doctor Pro Urine Eliminator can be safely used on a mattress too.
All Rug Doctor Pro cleaning solutions are Pet Safe and Wool Friendly.
Rug Doctor Pro

Urine Eliminator
can be used with or without a Rug Doctor Pro machine.
---
We asked a group of mums to test out the Urine Eliminator, one mum said:
"Really works"
"I followed the easy to follow instructions on the bottle and the results were brilliant. I used this while potty training my 2 year old daughter to clean up after spills and when my 3 year old son had been sick. All stains were removed first time and odours were replaced by a pleasant , fresh but not an overpowering fragrance. I love this product, it's so easy to use and so much more effective than any other stain removers I have tried in the past, will definitely be buying again."
Maddy Mum of three
---

Please click the logo for more comments and reviews on the babywebsite.com
---
Article from the Daily Mail...
How cigarette smoke in your carpet could harm your baby

Click the image to download the article from the Daily Mail as a PDF document to find out the importance of deep cleaning your carpets and why vacuuming isn't enough.
If you don't Adobe Acrobat PDF reader, please click here