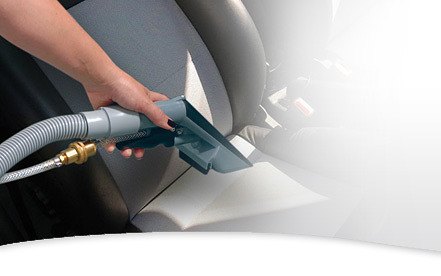 Increase the use of your Rug Doctor Pro with
the
Rug Doctor Pro hand tool
The hand tool is
perfect for cleaning tight spaces,
stairs, upholstery, cars or hard-to-reach areas.
HOW TO CLEAN WITH THE
HAND TOOL
Always test upholstery for colour-fastness by first cleaning a small, hidden area, then rubbing the test area with a white paper towel. If no colour transfers, continue cleaning.


When cleaning upholstery always use
Anti-Foam
in the top white recovery tank
when using
Upholstery Cleaner
to prevent excess suds building up in the machine. If the foam builds up to the top of the recovery tank there is a risk of it being pulled back into the vacuum motor which could result in damage.
Prepare surfaces for cleaning
Prepare surfaces for cleaning by thoroughly vacuuming to remove surface dust and dirt.
Getting started...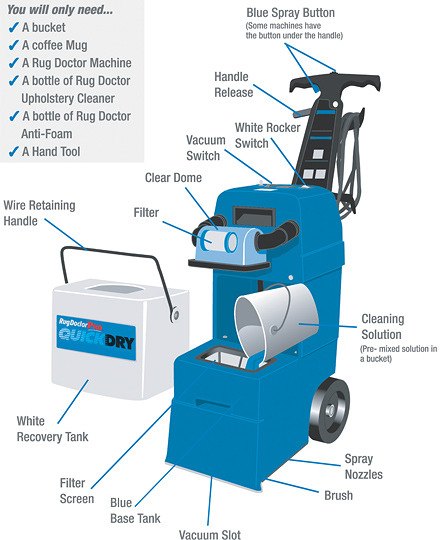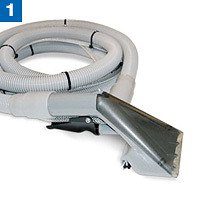 1.
The Rug Doctor Pro comes with a
hand tool
for cleaning difficult to reach carpeted areas such as stairways and around skirting boards -
for instructions on how to clean upholstery please click here
. It's fitted with a 3.5m double hose, which attaches to the back of the machine.
2.
First, unplug the clear braided hose by pulling down the ring on the brass quick release connector.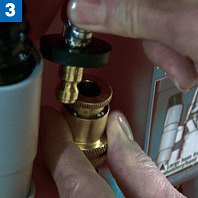 3.
Pull down the ring again until you can see the silver ball bearings, and insert the hand tool's clear braided hose. Lightly tug the braided hose to ensure it is securely connected.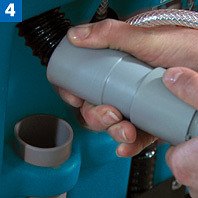 4.
Pull out the grey pipe attached to the black vacuum hose in the machine and push it into the end of the grey hand tool hose.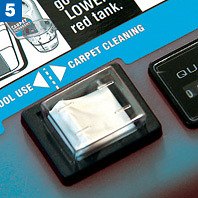 5.
Set white rocker switch on top of machine to
'HAND TOOL'.
Now it is ready to use.
6.
Squeeze the hand grip
to spray the cleaning solution on to the carpet. On stairs, move the hand tool backwards and forwards so that the brush underneath can
agitate
the carpet fibres to release the dirt.
7.
Mix the cleaning solution and add this to the
blue base tank
. Please see the reverse label on the Rug Doctor Pro Detergent you are using to find the correct dilution ratio, this can vary by machine and detergent.
8.
Before using the hand tool, always test the fabric you want to clean for colourfastness.
---
Troubleshooting guide
If you are having any problems using your Rug Doctor Pro please refer to our Troubleshooting guide by
clicking here.
If you are still experiencing problems please call our
Consumer Support Specialists
(Mon-Fri 9.0am - 5.00pm) on
01903 235558.
Click here for more information.