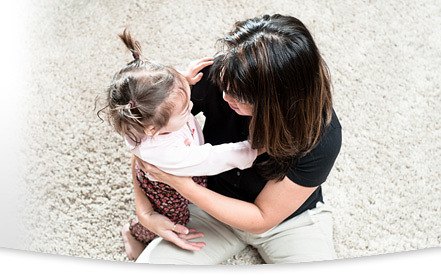 How to clean

shag pile carpet
You can use a
Rug Doctor Pro
to clean high pile carpet but a
different cleaning technique is required.
A
CLEANING SOLUTION

FOR SHAG
PILE AND OTHER HIGH PILE CARPETS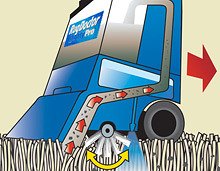 Shag pile/ very high pile carpet should be cleaned with a Rug Doctor Pro machine on a regular basis. This will not only extend the life of the carpet but it will also deodorise and restore its natural beauty and softness.

Spots and stains
are notoriously well known to be difficult to remove from shag pile/ very high pile carpet. Any spill or stain on shag pile/ very high pile carpet should be tackled immediately using one of our
Pro Stain Removal Products
. Remove as much solid material as possible with kitchen towel and then gently blot any remaining moisture.
Shag pile / high pile carpet is too thick to use a carpet washer that has a roller brush. However, the Rug Doctor Pro has a unique vibrating brush which oscillates backwards and forwards, and unlike cleaners that use roller brushes a Rug Doctor Pro will not get entangled in the pile.
---
Instructions how to clean Shag pile / very high pile carpets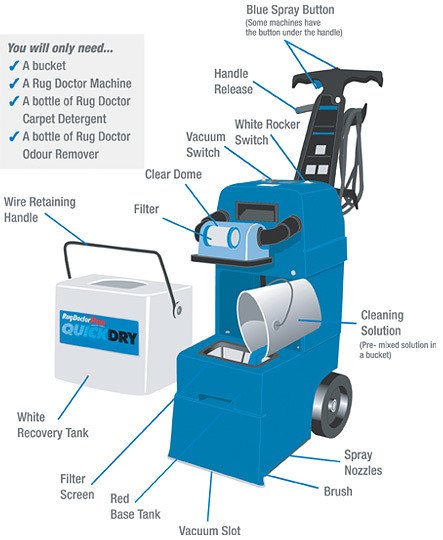 1.
Mix the cleaning solution following the instructions and dilution ratio on the reverse label of the
Pro Carpet Detergent
in a clean bucket and then add 100ml of
Rug Doctor Pro
Odour Remover.
2.
Remove the
white recovery tank
by unclipping the
wire retaining handle.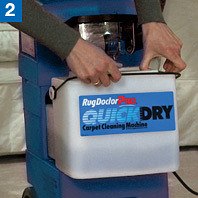 3.

Pour this solution
into the bottom blue solution tank.
(Please Note:
Use only luke warm water with wool carpets).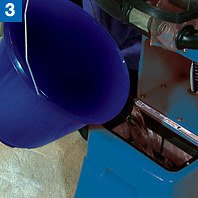 4.
Test an inconspicuous area for colour-fastness.
5.
Line up the machine at one edge of the carpet for your first pass.
6.
Switch the vacuum on and, pressing the spray button, make a brisk pass in one direction.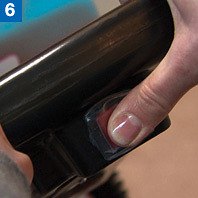 7.
Then repeat single passes over the remaining dirty carpet making sure the passes overlap by 0.5 inch to 1 inch (12mm to 25mm).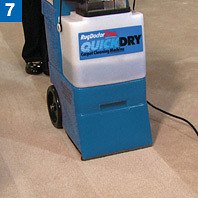 NEVER

over-wet a shag pile/ high pile carpet in an effort to clean it.
It is best to clean, then let the carpet dry completely and then repeat the process if necessary - for shag pile and high pile carpet, depending on how dirty the carpet is, an additional pass may be required in the opposite direction to the first pass.
---
Please Note:
Shag pile and high pile carpets will absorb more water than a regular carpets. So, after cleaning, it is best to go over the carpet again with the vacuum only switched on.
To speed up the drying process, allow for some air flow over the carpet by opening windows, using a fan or turning on your heating or air conditioning system.

---
Troubleshooting guide
If you are having any problems using your Rug Doctor please refer to our Troubleshooting guide by
clicking here
.
If you are still experiencing problems please call our
Consumer Support Specialists
(Mon-Fri 9.00am - 5.00pm)
01903 235558
.

Click here for more information.