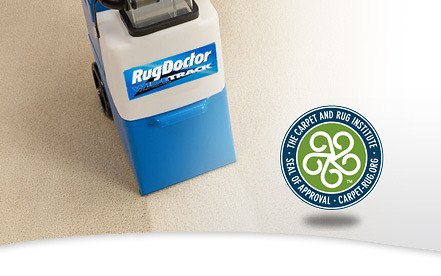 Buy a Rug Doctor
Pro Wide Track...

When you buy a
Rug Doctor Pro Wide Track
carpet cleaning machine you will get free delivery, £50 worth of Rug Doctor chemicals and an upholstery cleaning kit.
RUG DOCTOR PRO WIDE TRACK

SPECIFICATIONS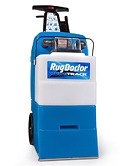 "Daily Poppins is one of the fastest growing cleaning franchises in the UK, cleaning over 14000 homes per month plus commercial premises. To support its growth and generate an additional revenue stream, we decided that carpet cleaning was a natural progression for the business.

Having considered a number of suppliers in the marketplace and tested their equipment, we elected to form a partnership with Rug Doctor.

We have been delighted with the results thus far with positive feedback from both our franchisees and clients and look to develop the service across our network."


Trevor White, Daily Poppins, Head of Franchise Operations, UK & Ireland
---
Weight:
44 lbs. (19.5 kg)
Fill Coverage:
159 sq. ft. (14.8 sq.m)
Dimensions:
27.5"H x 13"W x 24"D
(Handle folded for storage)
Adjustable Handle Height:
34" - 37.5" (82.5cm-90.2cm)
Brush Width:
11.25" (28.5 cm)
Brush Type:
Vibrating
Vacuum Path Width:
12.4" (31.5 cm)
Solution Pump:
Dual Pump and Jets

Pump Pressure:
32 psi
Solution Tank Capacity:
3.7 gal. (14 L)
Recovery Tank Capacity:
4.8 gal. (18.2 L)
Vacuum Motor:
1.9 hp (1.4 kw)
Water Lift:
100.1" (257 cm)
Electrical Requirement:
240 volt
Universal Hand Tool Hose Length:
12' (3.6m)
---
More information about the Rug Doctor Wide Track machine

Still undecided on which machine is best for you?
Click the image to download more information about
the Rug Doctor Wide Track machine.

If you don't have Adobe Acrobat PDF reader, please click here
---
If you need any additional assistance, please contact our Customer Support Specialists on 01903 235 558
Commercial uses
Refresh your entire business, Rug Doctor gives ability offer customers additional cleaning service at no extra cost.

Professional cleaning products
Get professional-quality results for your carpets at a fraction of the cost of hiring a service

Ask the Rug Doctor a question
From safety queries to troubleshooting, click here for all your Rug Doctor queries.

Buying a Rug Doctor Mighty Pro
Many commercial-grade carpet cleaning machines cost thousands, with Rug Doctor