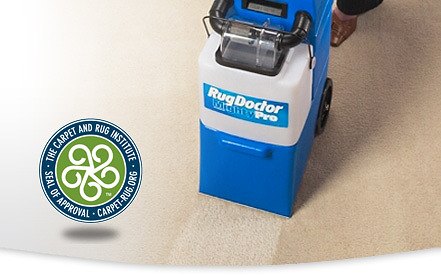 Buy a Rug Doctor
Mighty Pro...
When you buy a
Rug Doctor Mighty Pro
carpet cleaning machine you will get free delivery, £50 worth of Rug Doctor chemicals and an upholstery kit.
RUG DOCTOR MIGHTY PRO
SPECIFICATIONS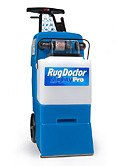 "We run a busy hotel on the South Coast and we pride ourselves on the cleanliness of both our guest rooms and public areas. We've had a Rug Doctor Pro machine for several years now and have been absolutely delighted by both its reliability and performance. Recently we have also started cleaning upholstery with it - using the hand tool attachment and Rug Doctor Pro Upholstery Cleaner, which has also produced outstanding results!"
Richard Margaroli - Partner at The Ardington Hotel, West Sussex
---
Weight:
36 lbs. (15.9 kg)
Fill Coverage:
118 sq. ft. (11 sq.m)
Dimensions:
25.5"H x 11.5"W x 22"D
(64.8cmHx29.2cmWx55.92cmD)
(Handle folded for storage)
Adjustable Handle Height:
32.5" - 35.5" (82.5cm-90.2cm)
Brush Width:
9.25" (23.5 cm)
Brush Type:
Vibrating
Vacuum Path Width:
10.4" (26 cm)
Solution Pump:
Single pump and jets
Pump Pressure:
28 psi
Solution Tank Capacity:
2.6 gal. (9.8 L)
Recovery Tank Capacity:
3.1 gal. (11.7 L)
Vacuum Motor:
1200 watts
Water Lift:
100.1" (257 cm)
Electrical Requirement:
240 volt
Universal Hand Tool Hose Length:
12' (3.6m)
---
More information about the Rug Doctor Mighty Pro machine

Still undecided on which machine is best for you?
Click the image to download more information about
the Rug Doctor Mighty Pro machine.

(Please note the standard Mighty Pro does not feature the 'Quick Dry' setting as stated in this brochure).
If you don't have Adobe Acrobat PDF reader, please click here
---
If you need any additional assistance, please contact our Customer Support Specialists on 01903 235 558

Buying a Rug Doctor Mighty Pro
Many commercial-grade carpet cleaning machines cost thousands, with Rug Doctor

Ask the Rug Doctor a question
From safety queries to troubleshooting, click here for all your Rug Doctor queries.