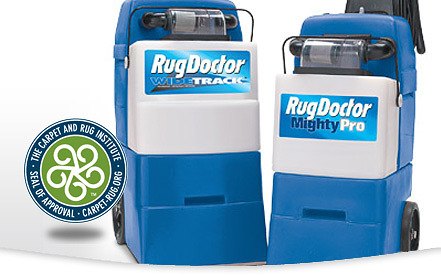 Rug Doctor
Mighty Pro or
Wide Track?
Both machines offer a proven cleaning system which gives a great return on investment with no specialist training required.
WIDE TRACK vs. MIGHTY PRO
WHICH IS RIGHT FOR YOU?
Both Rug Doctor Pro carpet cleaning machines have the same professional cleaning power, however the Wide Track offers additional benefits:
Wider brush

and

vacuum path

means more coverage with each pass, which allows you to clean bigger areas quicker


Larger capacity tanks

means fewer refills

Quick Dry

- carpets can be dry within 1-2 hours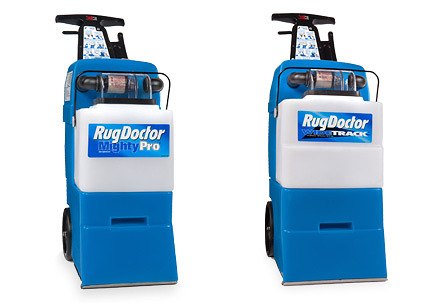 ---






Weight

36 lbs. (15.9kg)

44 lbs (19.5kg)

Fill Coverage:

118 sq. ft. (11 sq .m)

159 sq. ft (14.8 sq.m)

Dimensions:

25.5"H x 11.5"W x 22"D
(Handle folded for storage)

27.5"H x 13"W x 24"D
(Handle folded for storage)

Adjustable Handle
Height:

32.5" - 35.5"

34.5"- 37.5"

Brush Width:

9.25" (23.5 cm)

11.25" (28.5 cm)

Vacuum Path Width:

10.4" (26.5 cm)

12.4" (31.5 cm)

Solution Pump:

Single pump and jets

Dual pump and jets

Pump Pressure:

28 psi

32 psi

Solution Tank Capacity:

2.6 gal. (9.8L)

3.7 gal.

Recovery Tank Capacity:
3.1 gal. (11.7 L)
4.8 gal. (18L)


---
WHAT'S THE SAME?
Vacuum motor
1.9 hp (1.4 kw) with 100.1" (257 cm) water lift is an important feature
because the vacuum

power translates into how much dirty solution is extracted from the carpets and how quickly carpets are able to dry. Rug Doctor Pro machines remove over 80% of the dirty water. No other domestic cleaning units even come close to the Rug Doctor Pro.
---
The Rug Doctor Pro unique vibrating brush
The back and forth motion of the vibrating brush allows thorough
cleaning of each fibre and

helps the vacuum action in lifting the fibres with each pass, so your carpets dry fluffy and soft. This is different from rotary brushes which can have a matting effect on your carpet.
---
Upholstery/hand tool
The universal hand tool included in the web special deal has 12 feet
(3.6 metres) of hose to

easily reach halfway up or down a standard staircase. It can be used to clean carpeted areas where the machine cannot, such as tight spaces, around skirting boards, corners and under furniture. It can also be used to clean upholstery, cars interiors, caravans, mobile homes and boat interiors.