Add value to

your business
With the help of Rug Doctor Pro, your business
can really
benefit
from the professional service you
can offer your customers.
COMMERCIAL AND
BUSINESS USE

"I have been using the rug doctor for 3 years now and love it. I have tried a few other carpet cleaners but none compare. The Rug Doctor is easy to use, reliable in cleaning stains, and isn't nearly as expensive as other machines. Over all, it is
the best!"

K. Evans
---
Rug Doctor Professional carpet cleaning machines and products to eliminate stains & odours
If you are looking for a carpet and upholstery cleaning machine that
will eliminate
stains
and
odours,
and will give you professional
results every time then Rug Doctor Pro is the solution for you.

The Rug Doctor Pro is not only a carpet cleaning machine it can also clean mattresses and upholstery, plus there are a number of attachments, such as the Hard Floor Tool, which can be purchased to further extend the machines' capability. This is great because it allows cleaning companies to offer customers additional cleaning services.
---
Rug Doctor Pro is an asset to any business, the benefits include:
High performance and power

. You can be confident that Rug Doctor Pro has the power to give professional results every time you use it.




Reliable and durable

. Rug Doctor Pro is the same in construction as the red Rug Doctor rental machine that withstands daily, often punishing use yet lasts for years.
Rug Doctor Pro could be the last carpet-cleaning machine you'll ever need to buy.



Easy to use.

The powerful Rug Doctor Pro is used by thousands of cleaning professionals because it is lightweight, easy to manoeuvre and
easy to use.



S

pecially formulated

professional cleaning chemicals.

Rug Doctor Pro cleaning chemicals offer a wide range of professional quality carpet and upholstery cleaning solutions to eliminate stains and odours.



Time saving

- the large tank means fewer refills. All Rug Doctor Pro carpet cleaning machines have the same professional cleaning power and method, but the Rug Doctor Pro Wide Track gets the job done faster -

with 34% greater coverage per fill and fewer refills

. Rug Doctor Pro machines make carpet cleaning easy and the Wide Track makes the job that much easier and quicker.



Quality

- tested and approved for superior cleaning. Proven commercial design, professional engineering and unique vibrating brushes deep-clean carpets down to where grit and allergens hide. Rug Doctor Pro offers great value for money.
---
What's more, if you are not fully satisfied with your machine, every Rug Doctor Pro comes with a
30 day money back guarantee

and a twelve month manufactures warranty.

---
Tested and approved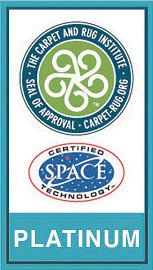 With Rug Doctor Pro you know you are buying a quality item as our machines have been
tested and approved
for superior cleaning. The Rug Doctor Mighty Pro is the only "wet extractor" machine designed for the consumer market that is approved for superior cleaning by the Carpet and Rug Institute (CRI) of America.
Both the Mighty Pro and Wide Track machines are considered professional grade carpet cleaners. Our machines are

built to last

with vacuum power that far exceeds rival models.

This is why Rug Doctor Pro has become the 'must have' cleaning solution in many cleaning businesses, hotels, restaurants, schools and contract carpet cleaning services around the world. Rug Doctor Pro

adds value

to a business.
With proper care and maintenance the machine is designed to
last a lifetime
. The outside covering of the
Rug Doctor Pro
is made of a thick and durable plastic that can withstand hits and bumps without cracking, making it ideal for business needs.
Our Rug Doctor Pro chemicals offer a number of solutions to common carpet spills and odours. This means that whatever the problem you are faced with Rug Doctor Pro will be the solution.

Rug Doctor Pro chemicals offer great value for money, helping to lower your
business costs. This is something which you can reflect in your carpet and upholstery cleaning prices,

making your prices even more competitive to customers

!

---
If you need a replacement part for your Rug Doctor Pro machine, please use the PDF below to help you find the name of the part and its product code.

Click the image to download the machine parts
document, for

information on the parts that
are available.
If you don't have Adobe Acrobat PDF reader, please click here
---
Please Note:

Our blue Rug Doctor Pro machines are
unauthorised for rental use. If you would like more information on becoming a rental outlet please contact our customer services team

01903 235558