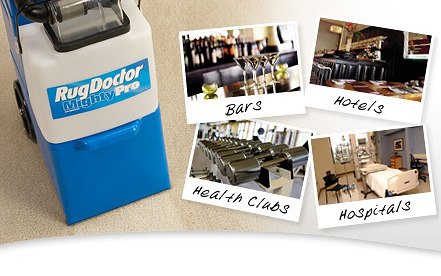 You'll never forget
the cleaning power
of a Rug Doctor Pro
Buy a Rug Doctor Pro professional grade
carpet cleaner
for a lifetime of use.
RUG DOCTOR PRO

- A WORLD LEADER IN CARPET AND UPHOLSTERY CARE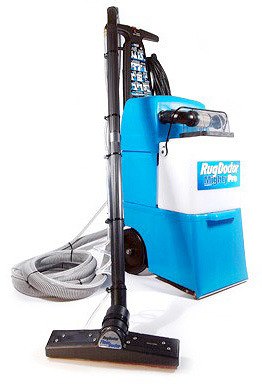 Buy the Rug Doctor Mighty Pro® or the Rug Doctor Pro Wide Track®, and you will get the advantage of a powerful 1-pass cleaning system as no repetitive back and forth motion is required.

Rug Doctor Pro carpet and upholstery cleaning machines and Rug Doctor Pro cleaning solutions are ideal for:
Cleaning Companies.

Care Homes.
Bars & Clubs.
Restaurants.
Leisure Facilities.
Landlords.
Hospitals.

Health Clubs.
Home Owners

Hotels.

Schools.



From top to bottom, you'll find there's a dramatic performance difference between the Rug Doctor Pro and other name brand carpet cleaning machines!
---
DISCOVER THE
POWER

OF RUG DOCTOR PRO CARPET & UPHOLSTERY CLEANING

No assembly
The Rug Doctor Pro is completely assembled and ready to use from the day it arrives.
---
Easy to use
Rug Doctor Pro uses a one button machine operation, tool trigger,
simple filling and great manoeuvrability. This makes

the Rug Doctor Pro one of the easiest machines to use available on the market.
---

Folding handle
Rug Doctor Pro requires very little storage space less than most upright vacuum cleaners.
---
Bigger, stronger vacuum motor
At 1.9 hp, the Rug Doctor Pro motor has the power to extract even deeply embedded dirt. More vacuum power means less moisture in your carpets and therefore your carpets dry quicker.
---
INJECT - AGITATE - EXTRACT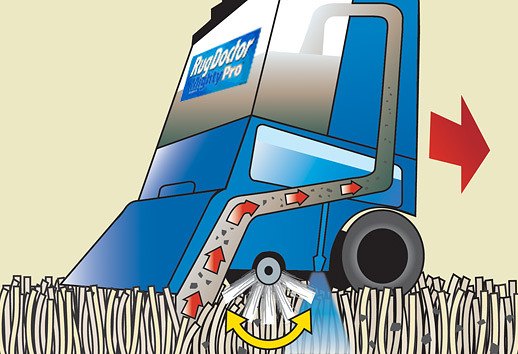 Rug Doctor Pro's three stage process to effective carpet cleaning excels where other models fail:
INJECT:
Getting enough cleaning solution (and the right cleaning solution) down into the carpet to loosen dirt.
AGITATE:
The back and forth motion of Rug Doctor Pro's unique vibrating brush allows thorough cleaning of each carpet fibre. This is very different from most machines which have rotary brushes and can cause matting. The Rug Doctor Pro brush gets down in between the fibres to loosen dirt and grime. At the same time it helps to raise the carpet pile which allows a clear path to pull up the dirt and liquid.
EXTRACT:
Powerful vacuuming action is essential to effective cleaning, without it, dirt and excessive moisture are left behind. Rug Doctor Pro has up to twice the power of leading department store carpet cleaning machines.
---
Please Note:
Our blue Rug Doctor Pro machines are unauthorised for rental use.
For more information contact our customer services
01903 235558 (9:00am - 5:00pm)