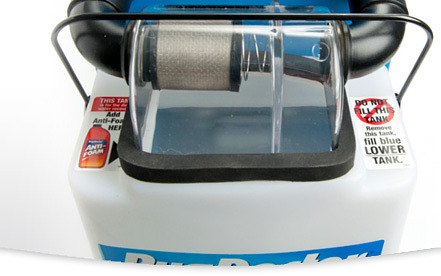 Pro Anti-Foam
helps to maintain & protect the vacuum motor
Rug Doctor Pro Anti-Foam when used with Pro Upholstery Cleaner
prevents harmful foam build up
in the machine's recovery tank.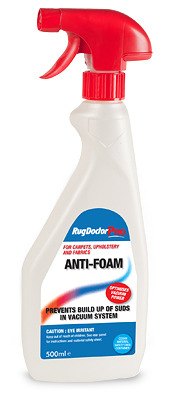 RUG DOCTOR

PRO ANTI-FOAM
Rug Doctor Pro Anti-Foam's special action assures optimal vacuum pressure for water extraction, leaving carpet and upholstery drier after cleaning.

Always use Rug Doctor Pro Anti-Foam when cleaning with Upholstery Cleaner.
Excess suds and foaming may be produced when cleaning upholstery, or if there is any residual non Rug Doctor Pro detergents in your carpet or upholstery from previous cleaning. Excess suds and foaming can build up in the recovery tank and can damage the vacuum motor inside the machine.
Directions:
1.

Shake Well
before starting the Rug Doctor Pro
2.
Add 50ml of Rug Doctor Pro Anti foam to
white recovery tank
- not the blue base tank.
3.
Add fresh Rug Doctor Pro Anti foam after each time the
recovery tank is emptied.
All Rug Doctor Pro chemicals have the safety data information printed on the back or the reverse label for your convenience
- please click on the link below if you would like to download a digital copy of this as well.
---
IMPORTANT:
Keep from freezing.
DO NOT
apply directly to carpet or upholstery.
DO NOT
add to cleaning solutions.
---
NB:
If upholstery has previously been cleaned with a shampooer or spray foam, spray the Rug Doctor Pro Anti Foam directly into the hand tool before the cleaning process begins.
---
CAUTION:
Harmful if swallowed. Do not inhale. Eye and Skin irritant.
Keep out of the reach of children.
---
Choose another Rug Doctor Pro product...