Rug Doctor Pro appears in hit US TV show!
Rug Doctor Pro appears in hit US TV show!
Rules Of Engagement is a hit comedy/romance show from the US which is featured on E4. The show is about two couples and their single friend, dealing with the complications of dating and their relationships.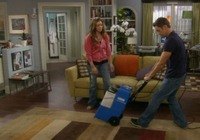 Now popular in the UK, we were excited to see a Rug Doctor Pro feature in series 5 episode 3, when Adam and Jen attempt to clean an old rug given to them by friends. After one pass Adam reveals the dirty water extracted from the carpet by the Rug Doctor to Jen who shrieks "God that's disgusting".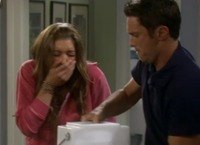 We were naturally very pleased to see our Rug Doctor Pro appear in two separate scenes of such a popular TV show - shown internationally. How clever of the producers of Rules Of Engagement to include the world beating Rug Doctor Pro in their show to show how carpets can really brought back to life!
Return To News

Professional cleaning products
Get professional-quality results for your carpets at a fraction of the cost of hiring a service

Buying a Rug Doctor Mighty Pro
Many commercial-grade carpet cleaning machines cost thousands, with Rug Doctor