Rug Doctor Attends Johnsons The Cleaners Basildon Fun Day!
Fortunately, the weather was sunny throughout the day on the 19th November at the Sainsbury's Supermarket at East Mayne, Basildon, Essex and shoppers were keen to see how the Rug Doctor could clean even the most stubborn of stains.
Red wine, black coffee and cranberry juice were just some of the stains that disappeared before their very eyes!
Rug Doctor's Marketing Manager and Area Sales Representative were both on hand to answer any questions that shoppers had about renting and using the Rug Doctor to bring their carpets back to life.
For children, Rug Doctor had plenty of the ever popular Mr. Steamy cuddly toys to give away - while shoppers were treated to money-off vouchers to encourage trial of both Rug Doctor machines and Rug Doctor cleaning solutions.

Rug Doctor rentals and cleaning solutions are available at the Johnson Cleaners pod which is located to the right hand side of the Sainsbury's Supermarket at East Mayne.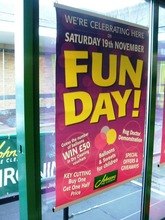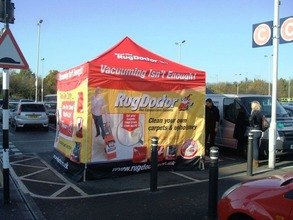 Return To News

Ask the Rug Doctor a question
From safety queries to troubleshooting, click here for all your Rug Doctor queries.

Buying a Rug Doctor Mighty Pro
Many commercial-grade carpet cleaning machines cost thousands, with Rug Doctor

Professional cleaning products
Get professional-quality results for your carpets at a fraction of the cost of hiring a service